Presented by True North Fleet
MP Cup Round 1 & 2 will be rescheduled. We are still determining the makeup date. Will post an update soon. 
Those of you who wish to get a refund, please do so by pressing the buttons below. You have to request a refund for entries and admission. separately.
ROUND 1 & 2
REFUND REQUEST
Admission refund requests have been closed.
You can rent a transponder from AMO. eTransfer AMOracingreloaded@gmail.com
$60 for weekend to reserve.
In eTransfer description add,
Name:
Class:
Bike#:
Transponder rental Open/Pick-Up beside Motopark scoring trailer 2-6 pm Friday. 7:30-9am Saturday. Once you pick up your transponder you can register online for your class.
When you pick up your transponder you must leave credit card info in case not returned a charge of $500 goes on card. SO PLEASE RETURN TRANSPONDER WHEN YOU'RE DONE RACING.
No racing license required. All racers welcome.
*Note: All persons entering the park must pay the weekend rate and will get refunded the appropriate amount when leaving before Saturday before 6:00pm.
*Note: All campers must pay for the weekend. If you leave early you will get refunded the appropriate amount when leaving.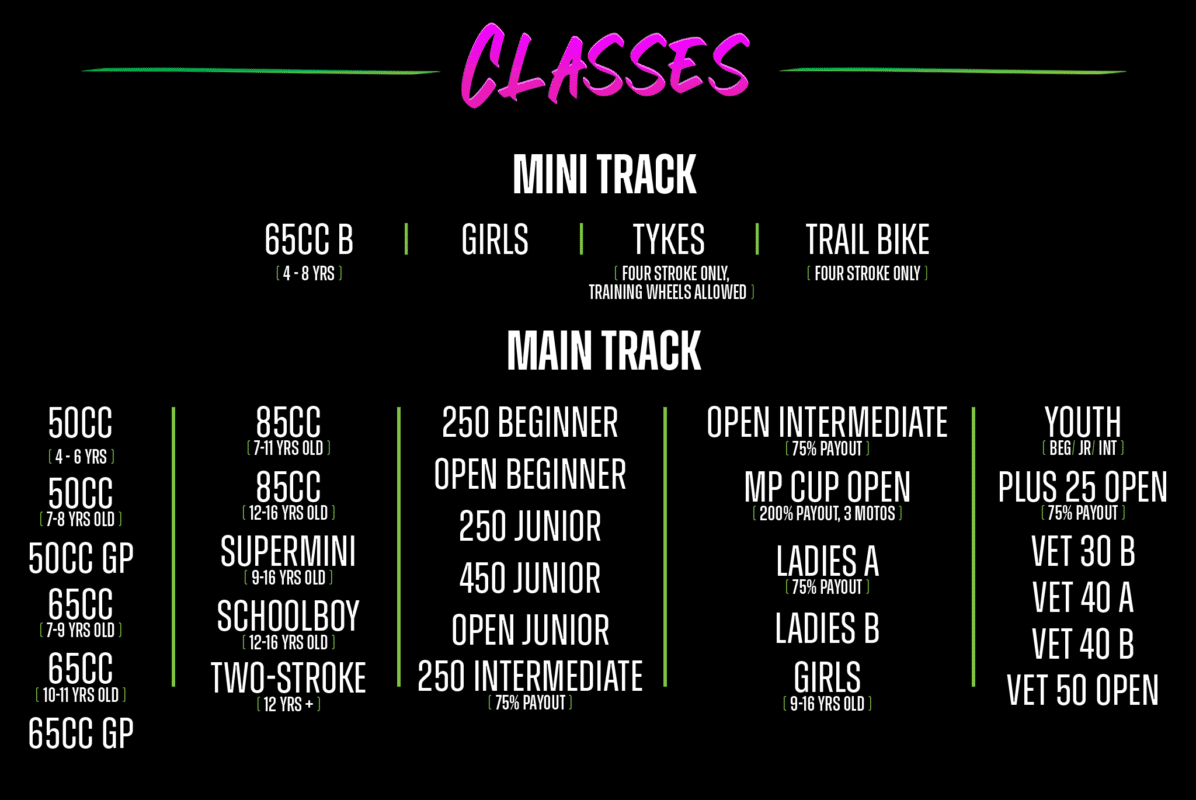 The Off-Road Café will be serving breakfast, lunch, and dinner, featuring MotoMuffin's, Buffalo Chicken Sandwiches, Pulled Pork Sandwiches, and Steak or Chicken Dinner. No need to stock the fridge when you come to Motopark. Hours below;
The main gate is staffed 24 hours. No one will be allowed into the main pit area between the hours of 11 p.m. and 7 a.m. Vehicles arriving during those hours will be staged in the overflow area. Please shut generators off at 11 p.m. Security will also be on duty. Should you have any concerns overnight please report to the main gate.
No pit bikes are allowed at Motopark on race days. Golf Karts are to be driven by licensed adults only. Race bikes may be driven to the starting line. First gear only.