Motopark 5 Day Motocross Camp
Motopark's MP Camp, 5 Day Motocross Camp is a summer must for all riders. Motopark's Motocross Camps started in 1972. Today we run 7 weeks of camp annually.
Our 5 Day Motocross Camp attracts students from throughout North America as well as a number of other countries. The goal of our instructors is to work with students on their technique and speed. They want riders to leave the camp riding safer, smarter and faster.
MP Camp helps build a good foundation for riders and make them much more aware and professional as to how they approach the sport. These qualities are essential towards building a healthy attitude and respect for the sport and their fellow competitors.
MP Camp covers all the fundamentals such as body position, braking, berms, ruts, jumping, uphills & downhills, starts, passing, slippery surfaces and racing lines. As well, we discuss maintenance and setup of the riders motorcycle. Students are split into groups based on their riding ability. All the above aspects are covered in each group.
COVID-19 UPDATE
Due to COVID-19 2020 MP CAMP will be run as a day camp. Camp sites and room reservations are available.  Please contact us if you'd like more information. If you're brining your own trailer please feel free to sign up for camp online.
Minors must be accompanied by a parent/guardian.
Camping is available.
Limited room rentals are available for single families or individuals.  Minors must have a parent/guardian present in the evenings.
If you're looking for Tyke camp for ages 4-6. Please send us an email.
Camp #1: June 29 to July 3
Camp #2: July 6 to 10
Camp #3: July 13 to 17
Camp #4: July 20 to 24
Camp #5: Cancelled due to an event.
Camp #6: August 3 to 7
Camp #7: August 17 to 21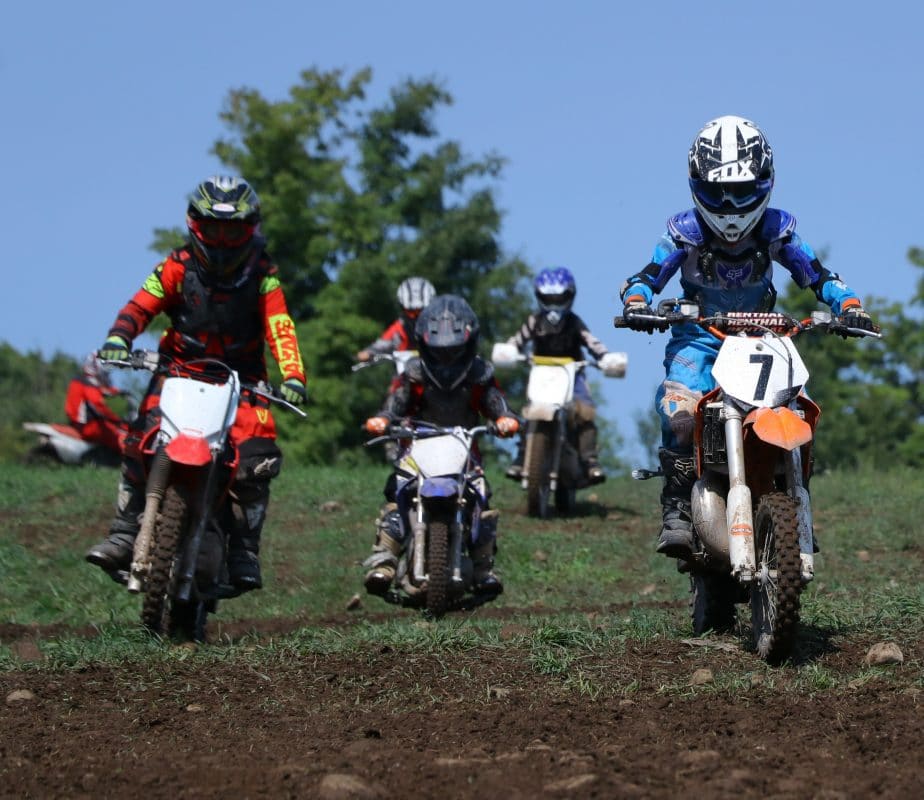 How Much Does it Cost?
WITH YOUR OWN BIKE
$760 + HST (Discounted because of COVID-19), Includes accommodations, food, and lessons.
How to Sign Up?
A non-refundable deposit of $100 is required when booking, and the balance is to be paid upon arrival.
Book Now
Contact Us
All inclusive fuel package
$35 + HST, small frame bike
$45 + HST, medium frame bike
$55 + HST, large frame bike
Paintball
$25 + HST, one game
$45 + HST, two games
$15 + HST, per refill
Photos
$65 + HST, a professional photographer takes 30 to 60 photos. Will email a link to the photos early the following week of camp.
Mechanical
Our mechanic helps students with basic maintenance such as cleaning air filters, oil changes (oil not included), change a broken lever, and tightening a chain. Other maintenance will be charged at a shop rate of $65 + HST per hour.
Service Trailer Site
$100 + HST per trailer per week. Sites are available depending on service site member occupancy. We do not reserve or can not guarantee a service site.
Thursday Trailer Pump Out
Contact Wilton Sanitation for pump out.
SUNDAY CHECK IN
Sign in Sunday between 3:00pm and 4:30pm.
Dinner at 5:00pm
Let us know if you require to check in late.
FRIDAY PICK UP
Friday After 12:00PM
Please make sure to checkout at Registration and MotoMech upon arrival.
TABS AT MOTOPARK
Motopark has a great tab system. Any minor parts, snacks, paintball, etc… will be put on the students tab. Anything major their parent will be contacted first. We do not recommend leaving any money with students.
RIDING ABILITY
Motopark caters to all levels of riders, from beginner to pro. Riders attending the camp will be seperated into groups based on ability. Elite riders will be placed into the Motocross Academy.
AGE OF STUDENTS
All ages take part in our Camp. Students under the age of 7 require a parent to stay on the property. No addition charge for parent trailer accommodation.
The average age of students is 10 – 14 years old. The youngest we've had is 4 and the oldest 77.
All ages are not only welcomed but encouraged.
INSTRUCTORS ON DUTY
9:00 AM – 4:00 PM Instructors are responsible for the students during the day.
MECHANIC ON DUTY
8:00 AM – 6:00 PM
Responsible for making sure bikes are functioning properly.
Responsible for helping the students do an oil change.
Instructs the Maintenance Lesson and assists riders with bike set-up
MEALS FOR PARENTS AND FRIEDNS
$25 + HST per day per person to join breakfast (8:30am), lunch (12:30pm) and dinner (5:30pm).
STUDENT SUPPLIES
Toiletries, sleeping bag, pillow, long sleeve and short sleeve pants and shirts, and gear bag.
FUEL
Students can use Motoparks fuel for $35, $45, or $55, small, medium, or large frame. Plus HST
Students can also bring their own gas (clearly mark your gasman with your name).
MYLAPS TRANSPONDERS
(optional) Bring your MyLaps transponder, if you own one for racing. Make sure it is completely charged when you check in. Also bring your charger, as most transponders only last 4 days. If you would like to purchase a transponder head to www.mylaps.com, Look for the X2 TRANSPONDER MX.
ELECTRONICS
We do not recommend any electronics, cell phones etc. of any kind. We take no responsibility whatsoever for any loss or damage to any electronics brought on the property.
Injured before camp: a $100 non refundable deposit is given when you book. You can cancel and we will add the $100 deposit on account to be used for a future camp.
Injured during camp: once camp starts there are no refunds do to injury, illness or any other reason. Students may be given a credit towards a future camp in some situations.