Motopark bike rentals are available for rent by the hour, day, or week.
Riding fees are included when you rent a bike.
Renting a bike at Motopark gives you access to the Main Motocross track or Mini Track depending on your ability and bike size.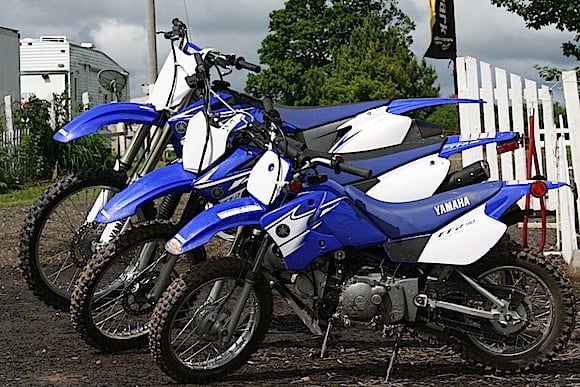 TTR rentals are great for beginner riders or experienced riders who have not been on a bike for awhile.
Rates for all TTR Rentals
Hourly – $85
Daily – $300
Weekly – $900 (5 days)
TTR 110CC (no clutch) – Riders ages 8 to 11. 
TTR 125CC – Riders 12 and up. As well as riders shorter than 5′ 8″.
TTR 230CC – Riders 14 and up as well as riders taller than 5′ 8″.
YZ rentals are great for experienced riders. Riders who have ridden for multiple years and have a good handle on the mechanics of the bike.
Hourly – $110
Daily – $350 (10am to 4pm)
Weekly – $1000 (5 days)
YZ 65CC – Experienced riders ages 8 to 11
YZ 85CC – Experienced riders ages 10 to 14
YZ 125CC – Experienced riders ages 14 and up.
A full set of rental gear is avaialble, helmet, goggles, jersey, pants, gloves, knee pads, motocross boots, and chest protector. Check out our rates for pricing.
You should bring long socks to use with our motocross boots. Also a warm old sweater to wear under the motocross jersey for cooler days.
If you wish to cancel your reservation, 24 hours notice must be given. If you fail to do this, the full amount will be charged to your credit card. Rain dates can be rescheduled.
If you're found to be acting irresponsible with the bike, or endangering others safety, Motopark reserves the right, to end your scheduled rental. A refund is NOT given in this case.
Only the scheduled rider will be allowed to ride the rented bike.? When renting a bike(s) from Motopark, you will be required to go over the bike with an employee, and confirm the condition of the bike, prior to using it. At this time you will be signing off on this confirmation.
Engine or drive train problems including flat tires are the responsibility of Motopark.
Renters are responsible to pay for damage such as bent or broken bars, levers, perches, cracked or broken plastic, ripped seat covers etc.
A credit card number is required while renting a bike. If the bike is returned with any damages, you will be billed for the full amount of the damages caused by you. Full payment for the damages is required prior to your departure of the facility. If you depart from the facility prior to settling this debt, it will be charged to your credit card/account.